Hodskinson's map of Suffolk
Joseph Hodskinson's map of Suffolk, published in 1783, was one of a large series of English County maps produced in the second half of the 18th century by entrepreneurial surveyors, engravers and cartographic publishers.
Printed usually at a scale of one inch to the mile, these maps were often the first serious attempt to record English topographical detail, using improved surveying techniques and instruments. Many of the maps are historically important in that they were surveyed just before Parliamentary Enclosure irrevocably changed the rural landscape. Hodskinson's Suffolk map is particularly unusual in that it was awarded a coveted gold medal by what came to be known as the Royal Society of Arts.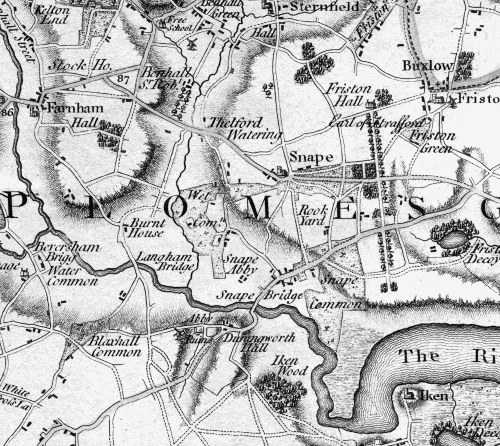 A section of the original Suffolk map showing the area around Snape
Original versions of the Suffolk map are scarce and expensive and this digital redrawing is an attempt to make the map more generally available. Similar digital representations of Norfolk (William Faden's 1797 map of Norfolk) and London (William Faden's 1788 map of London and its Environs) have already proven to be invaluable to those with an interest in landscape, planning, agricultural and social studies.